"You have such a remarkable way to bring out the best in EVERY SINGLE performer on stage. Truly, they ALL shine on stage. I've never seen anything like it. You are amazing and like I've said many times now, we are so lucky to have found you!"
Amy Walsh
"Both Adam and Sarah had an amazing experience! Since the first class, they come home excited and happy singing the songs and talking about all the kids who were doing the class with them like they'd been friends forever. I was impressed how quickly they picked the lines and songs up and by the enthusiasm they brought home. For them was an incredible experience."
Anna Bateman
"One word……. **SPECTACULAR! **"
Julie Tran
"Izzi adores your classes. She says it's SPECTACULAR!  She truly shines and is happiest on the stage and she's happiest above all working with you in the classes and on the shows. Thank you!"
Lori Shulman
"My two kids train privately with Susan. We're so lucky to have someone of her caliber teaching our kids. An award winning actress working in film and TV who has played starring roles on London's West End and on and off Broadway, teaching here! My son is working on a Disney TV show because of her amazing coaching and my 19 year old who has been coaching with her for a few years is constantly booking.'
Jennifer Tomlinson
"Thank you for everything. You and your team are doing a fantastic job, I am very impressed. Kasia absolutely loves it and can't wait for classes every week."
Ella Debski
"The workshop reached far beyond our expectations. Sara had such a fantastic time and learned so much. She LOVED it. We can't wait for the camps."
Paula (Sara's mom)
"Theo really loves the classes. He has grown in confidence and sings all the time at home. You have worked wonders!"
Rebecca Pine
"We are new to Young Actors Academy and we're really glad that we joined the session. My son is a little bit introverted, so it was great to see him really step up his confidence in such a short time. You are an amazing teacher, Susan. Loved you on LOST, too!"
Ann (Leo's mom)
"Brilliant program, wonderful teachers. Emily had so much fun. The teachers are excellent, lots of support, a happy environment, it's fantastic. Big, big thank you for all your wonderful work."
Julia (Emily's mom)
"Amazing academy with excellent curriculum. Highly recommend!"
Sayareh Ourmazdi
"The girls had an absolute ball and looked forward to every Saturday. I particularly liked how the teachers looked after each child and tailored the training to their level."
Celia Farrow
"Thank you Susan & team for making Anabelle's year so special and memorable. She loves the classes and the show was amazing."
Kelly Edwards
"Piper loves your acting class deeply. It's so much fun and filled with positive, creative energy. Thanks so much for inspiring her."
Blythe Williams
"So impressed with your academy. My daughter really loved the classes and the show at the end was excellent. We can't wait to sign up again."
Alison Thompson
"My little girl skips into the studio on a Saturday. She absolutely loves these sessions and wished it was actual school! The teachers are enthusiastic and warm and we would totally book again!"
Tori Maxwell
"My daughter really loves the classes and always comes out happy and enthusiastic! She asks every day if it's a Young Actors Academy day and comes home with a big smile each week and is excited to tell me what she done. We can't wait for the summer camp!!"
Lucy Rider
"Ellery is loving every minute of your class!  We can't wait for the show. Your academy is amazing."
Danielle Burness
"The on-camera audition videos are wonderful – I must say we really got what we were looking for from your Acting Intensives – a musical, a drama, on camera and auditioning experience, theater games and improv…fun and supportive environment with great teachers and focused kids!"
Eric (Liv's dad)
"Thank you so much for bringing out the absolute best in my normally shy child! The teaching was outstanding, she learned so much in all three disciplines. My daughter was bubbling with enthusiasm for days afterwards and can't wait to come back!"
Angela P.
WE WILL BE BACK FOR OUR FALL SESSION IN SEPTEMBER

SUMMER INTENSIVES
Spaces are very limited! Camps & Intensives fill up quickly!
Early Bird Discount running until April 1st

Additional discount for attending both camps, week 1 and 2.
YAA's musical theatre and acting/on-camera camps, run by award winning film, TV and Broadway/West End lead actress, Susan Duerden (LOST, NCIS, VICE, THE UNIT), offers children ages 4-16 not only
the highest quality of performing arts training but also
an unforgettable experience that will give each young performer memories that will last a lifetime. 
WEEK ONE: JUNE 15TH - 19TH -
TEEN BEACH MOVIE, MUSICAL THEATRE INTENSIVE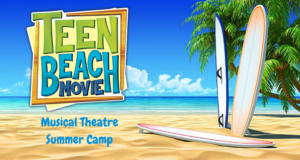 Join us this summer as we dive into an exciting and specially written show inspired by the smash hit 'Teen Beach Movie', combining the amazing songs from the movie, dazzling dancing and a fun, heart-warming story that every 8-16 year old would love to be a part of.
Classes will be divided by age and experience. During the fun-filled week, the camp's activities include acting exercises, improv games, vocal training, Broadway dance, audition technique, character work, theatre games and script work as well as working on a production from rehearsal to performance (in costume) in front of family and friends. During the five days of fun, your child will improve their skills, discover the joys of performing and make some great new friends along the way. Our summer intensives are run by industry professionals who will work their magic to both ensure your child enjoys every second and to nurture their true potential. Expect an action-packed five days of fun where each child comes away with amazing training and a great sense of achievement.
No experience is necessary, beginners are welcome. All performers will have the chance to step into the spotlight and shine. Apply early; this is a popular program!

AGES: 8-16
HOURS: 9am - 3pm

TUITION: Early Bird Discount:  $250 per week ($295 regular tuition).  10% Sibling discount.
ADDITIONAL $50 DISCOUNT IF YOU SIGN UP FOR WEEKS 1 AND 2 ($450 for 2 weeks)

LOCATION: 
30125 Agoura Rd 2nd floor, Agoura Hills, 91301
REGISTER

HERE
WEEK TWO: JUNE 22ND - 26TH -
ACTING INTENSIVE FOR STAGE & SCREEN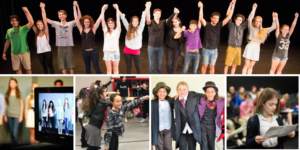 Lights, camera, action, fun!  Be a part of our exciting Acting Intensive For Stage and Screen, for both new and experienced young actors. 
Actors will be divided by age/experience and work with professionals working in the industry to
develop and expand fundamental acting skills, bring characters to life, enjoy acting and improv games and work on audition technique. 
In our exciting on-camera part of the program, actors will experience every aspect of television and film acting from the audition to rehearsals to performing on camera with scripts pulled from favorite TV shows like, THE BABY-SITTERS CLUB, KNIGHT SQUAD, LIV AND MADDIE, LAB RATS, RAVEN'S HOME, KC UNDERCOVER. Wrapping up the week there will be a final performance for friends, family and industry professionals. We welcome performers of all experience levels and talents. Limited spaces.

AGES: 8-16
HOURS: 9am - 3pm

TUITION:  Early Bird Discount: $250 per week ($295 regular tuition).  10% Sibling discount.  
ADDITIONAL $50 DISCOUNT IF YOU SIGN UP FOR WEEKS 1 AND 2 ($450 for 2 weeks)

LOCATION: 
30125 Agoura Rd 2nd floor, Agoura Hills,  91301
REGISTER

HERE
WEEK THREE: JULY 6TH - JULY 10TH,
BROADWAY KIDS CAMP

AGES 4 - 8,  9AM - 12 NOON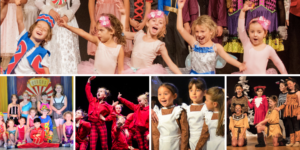 Welcome to
the wonderful world of acting, singing and dancing! Our Broadway Kids Camp is designed to develop children's confidence, self-expression, focus and social skills as well as inspiring creativity through dramatic play, imaginative theatre games, storytelling, dance and song - all whilst having a lot of FUN! 
The young performers will be divided by age and work with industry professionals as they learn songs, dances and scenes from some of their favorite movie musicals and Broadway productions. They learn audition skills as well! Every child gets their own chance to shine! At the end of the week they will perform their own musical show, in costume, featuring songs from Broadway shows and movie musicals like Annie, The Greatest Showman, Moana, Mary Poppins Returns, Matilda, Frozen 2 and more. Our caring, professional teaching artists create a fun and inclusive community where all students feel supported and confident.

Expect an action-packed five days of fun where each child comes away with amazing training, a great sense of achievement and lots of new friends. *Early registration is advised!

AGES: 4-8
HOURS: 9am - 12 noon

TUITION:  Early Bird Discount: $150 per week ($195 regular tuition).  10% Sibling discount.

LOCATION: 
30125 Agoura Rd 2nd floor, Agoura Hills,  91301
REGISTER

HERE
Space is extremely limited!
There will be a limited number of spaces for the summer intensives and spots fill up very quickly, so sign up early to avoid disappointment. Once the camps are full we will start a wait list.

WHAT PARENTS ARE SAYING
Izzi adores your classes. She says it's SPECTACULAR!  She truly shines and is happiest on the stage and she's happiest above all working with you in the classes and on the shows. Thank you! – Lori Shulman
I wanted to let you know that Michael loved the class, he left feeling more alive and can't stop talking about going back. I'm so happy for him and glad he feels so comfortable with you. Thank you! – Shawna Stevenson
My two kids train privately with Susan. We're so lucky to have someone of her caliber teaching our kids. An award winning actress working in film and TV who has played starring roles on London's West End and on and off Broadway, teaching here! My son is working on a Disney TV show because of her amazing coaching and my 19 year old who has been coaching with her for a few years is constantly booking. – Jennifer Tomlinson
We are new to Young Actors Academy and we're really glad that we joined the session. My son is a little bit introverted, so it was great to see him really step up his confidence in such a short time. You are an amazing teacher, Susan. Loved you on LOST, too! – Ann (Leo's mom)
The workshop reached far beyond our expectations. Sara had such a fantastic time and learned so much. She LOVED it. We can't wait for the camps.– Paula (Sara's mom)
I love the classes. It's so much fun. I was scared to sing, but now I'm not. I love singing now. I like the acting games we play. They are great fun and we get to make up plays and dance in very cool ways. – Mark (9 yrs old)
My little girl skips into the studio on a Saturday. She absolutely loves these sessions and wished it was actual school! The teachers are enthusiastic and warm and we would totally book again!– Tori Maxwell
The girls had an absolute ball and looked forward to every Saturday. I particularly liked how the teachers looked after each child and tailored the training to their level. – Celia Farrow
Very professional and the kids came back each day telling us how amazing it was.   – Claire Manning
So impressed with your academy. My daughter really loved the classes and the show at the end was excellent. We can't wait to sign up again.– Alison Thompson
Both Adam and Sarah had an amazing experience! Since the first class, they come home excited and happy singing the songs and talking about all the kids who were doing the class with them like they'd been friends forever. I was impressed how quickly they picked the lines and songs up and by the enthusiasm they brought home. For them was an incredible experience. – Anna Bateman
Brilliant program, wonderful teachers. Emily had so much fun. The teachers are excellent, lots of support, a happy environment, it's fantastic. Big, big thank you for all your wonderful work.– Julia (Emily's mom)
Crawford said, "I want to do that again!"  He really enjoyed the session.  A great place to help build his self-confidence whilst having fun!– Linda Young
Theo really loves the classes. He has grown in confidence and sings all the time at home. You have worked wonders!– Rebecca Pine
Thank you Susan & team for making Anabelle's year so special and memorable. She loves the classes and the show was amazing.– Kelly Edwards
Ellery is loving every minute of your class!  We can't wait for the show. Your academy is amazing.– Danielle Burness
Thank you all so much. I saw my son grow in confidence and he came out of the classes full of energy and enthusiasm. Thank you so much! We can't wait for summer camp!– Anna, Gavin's Mom
Noelani was on cloud 9 the entire day. She loves performing and absolutely enjoyed the workshop. I think this would be a great fit for her.– Marielle Banducci
Piper loves your acting class deeply. It's so much fun and filled with positive, creative energy. Thanks so much for inspiring her.– Blythe Williams.
Thank you so much for bringing out the absolute best in my normally shy child! The teaching was outstanding, she learned so much in all three disciplines. My daughter was bubbling with enthusiasm for days afterwards and can't wait to come back!– Angela P.
Thank you for everything. You and your team are doing fantastic job, I am very impressed. Kasia absolutely loves it and can't wait for classes every week.– Ella Debski
My daughter really loves the classes and always comes out happy and enthusiastic! She asks every day if it's a Young Actors Academy day and comes home with a big smile each week and is excited to tell me what she done. We can't wait for the summer camp!!– Lucy Ryder